Rentals
Overland Rentals for Colorado, Utah and beyond!  From Overland built Toyota Tacoma's to lifted Jeeps with rooftop tents we have a wide selection of overland rentals to choose from.  Each of our rigs comes with an overland package providing all the gear needed for two campers.  With available trip planning and delivery options we're here to make the logistics of your trip a breeze.  Located in Fruita, Colorado were only 15 minutes from Grand Junction Regional Airport and an hour and a half from Moab, UT or Ouray Colorado,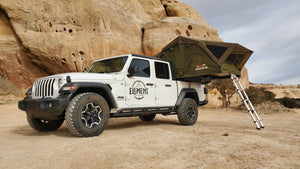 Jeep Gladiator Sport Support
Our most versatile rig! We can easily swap tents for gear baskets, bike trays and more on the capable platform.
Gladiator Sport Rental
Looking for an affordable option with a blend of capability and comfort? The Gladiator Sport is ideal for trips around White Rim and those needing mountian bike support. It comes with our overland package but just let us know if you need some extra customizaiton for your adventure!
Info and Availability Check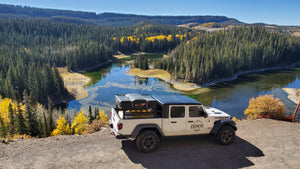 Jeep Gladiator Rubicon
Rubicon is the most cabable of the Jeep trip packages! When you need that extra edge this is the truck for you.
Gladiator Rubicon Overland Package
With the capability the Rubicon is known for and our standard overland package this Jeep is built for sustained adventure at an affordable price. With 35 inch BFG KM3 tires, locking differentials, electronic sway bar disconnect, leather heated seats and more, this rental is ready to take you there in comfort. This overland rental has a mid-height bed rack and can carry traction boards and extra fuel, it can also be custom outfitted with bike trays and more.
Info and Availability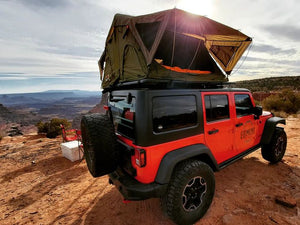 Wrangler Rubicon Overland Package
The classic Wrangler Rubicon for those classic overland routes!
Jeep Wrangler Rubicon Overland Package
The Wrangler Rubicon is the tried and true workhorse of the offroad world! With the 23zero Breezeway 2 person tent and all the supplied gear its ready for any journey. But with lower fuel economy and payload, long term trip costs and gear packing should be considerations when choosing the Wrangler.
Info and Availability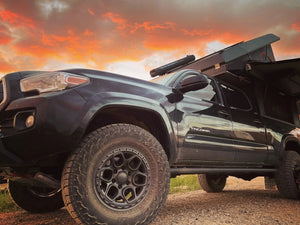 Tacoma Alu-Cab Overland Rental
When luxury and simplicity are a priority for your trip! We have you covered with the comfort, ease and reliability of Alu-cab and Toyota
Toyota Tacoma Overland Rental with Alu-cab Deluxe Canopy Camper
Tacoma reliability paired with rugged easy setup of the Alu-cab Deluxe Canopy Camper system is an overland adventurers dream. Featuring the 270 Shadow Awning, solar, dual batteries, included ARB fridge/freezer, and Goose Gear 40% rear seat delete this camping system can be setup in less than 2 minutes.
Info and Availability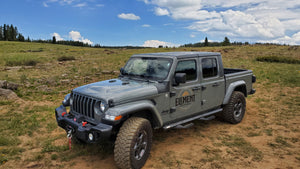 Jeep Gladiator Tourer
Built with extended trips in mind we sought to blend simplicity and comfort for long days on the road with sacrificing capability in this Gladiator Rental.
Jeep Gladiator Sport Tourer
With a lift and 35 inch tires a winch and more this Gladiator was built with idea of improved capability without adding too much weight or sacrifices to on road performance and fuel economy. Featuring our standard overland package and paired with adaptive cruise control, lane change assist and entry steps this truck is ideal for off-road and on road adventures touring national parks and sites around the American West.
Info and Availability
Power Wagon Adventure Support Rig
Full Size Trucks for full size adventures. The most spacious and highest payload of our adventure rentals
Power Wagon Adventure Support Package
The ideal overland vehicle for a trip with the guys or a full size family adventure. The Power Wagon is the "Rubicon" of the full size truck world. With locking differentials and sway bar disconnect its a very capable rig. With a roomy interior huge bad rack and tonneau bed cover its a superb gear hauler and can be setup as an ideal mountain bike support vehicle or SAG. This rental features a 23zero Breezeway 72 rooftop tent which is about 10 inches larger than a king size bed when setup.
Info and Availability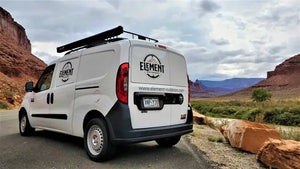 RAM Promaster Campervan
Try the van life with this easy and affordable option for those looking for a campervan experience.
Campervan Rental
The ideal little van for an into to van life experience. T With a platform bed with plenty of storage underneith and a roof rack cargo basket you'll find plenty of storage onboard. All the bedding you need and camping gear are supplied and ready for you to
setup camp under the shelter of the 23zero bushman awning.
Info and availability